ORDER YOUR LIVE LANCELIN CRAYFISH HERE
$25.00 – $150.00
FRESHLY CAUGHT LIVE CRAYS STRAIGHT FROM THE BOATS!
Lancelin crayfish/lobsters are considered a delicacy the world over and now you can get freshly caught live crays straight from the boats under the Back of Boat (BOB) scheme.
Prices range from $25 – $150 per crayfish depending on the size (smalls through to jumbos) and where the fishers are fishing. The boats only bring in what is sold so place your order above for a day that fishers are fishing and you'll be advised the afternoon prior what time you'll need to meet the boat at the jetty.
If you've only ever tasted frozen crayfish there is no comparison with eating fresh crays and getting them from the back of the boat at Lancelin's jetty ensures you get the freshest and tastiest crayfish around, and remember, you're getting these at 1/3rd – 1/5th the price the Chinese were paying at the dinner table!
Once you've received email confirmation with the time the boat will be at the jetty, simply roll up with your bag or esky, photo ID and your receipt to collect the world's best crayfish/rock lobsters. Of course, if a fisher is unable to fish due to bad weather or another reason, you will receive a full refund (this has yet to happen).
If you'd like to be automatically notified every time a new fishing day is announced,  click here and fill out the form.
So, how do you order live crays caught just hours before you collect them?
Go to the calendar above and select an available fishing day. Fishers normally confirm fishing days 1-4 days prior
Select the number of lobsters you want
Add your contact and credit card details and click ORDER
You'll receive an email confirming the sale.  The afternoon prior to the collection date you need to look for another email in your inbox with the time the boat will dock; normally between 10am and 2pm at the Lancelin jetty (Miragliotta Street).  On the day, bring photo ID, your receipt and something to take your live lobsters home in.
You MUST collect them on the day as these are live animals and are covered by strict government regulations and  "registered receivers" are not permitted to purchase.
IMPORTANT:   All orders are NON-REFUNDABLE even if you fail to collect them. You MUST produce photo ID and your receipt (digital or printed) when you collect your crays and you can't buy if you're a registered crayfish receiver in WA.
A 2.5% admin fee applies to all orders at checkout.
And on some days you can get 1.5kg-2kg Jumbo crays like these.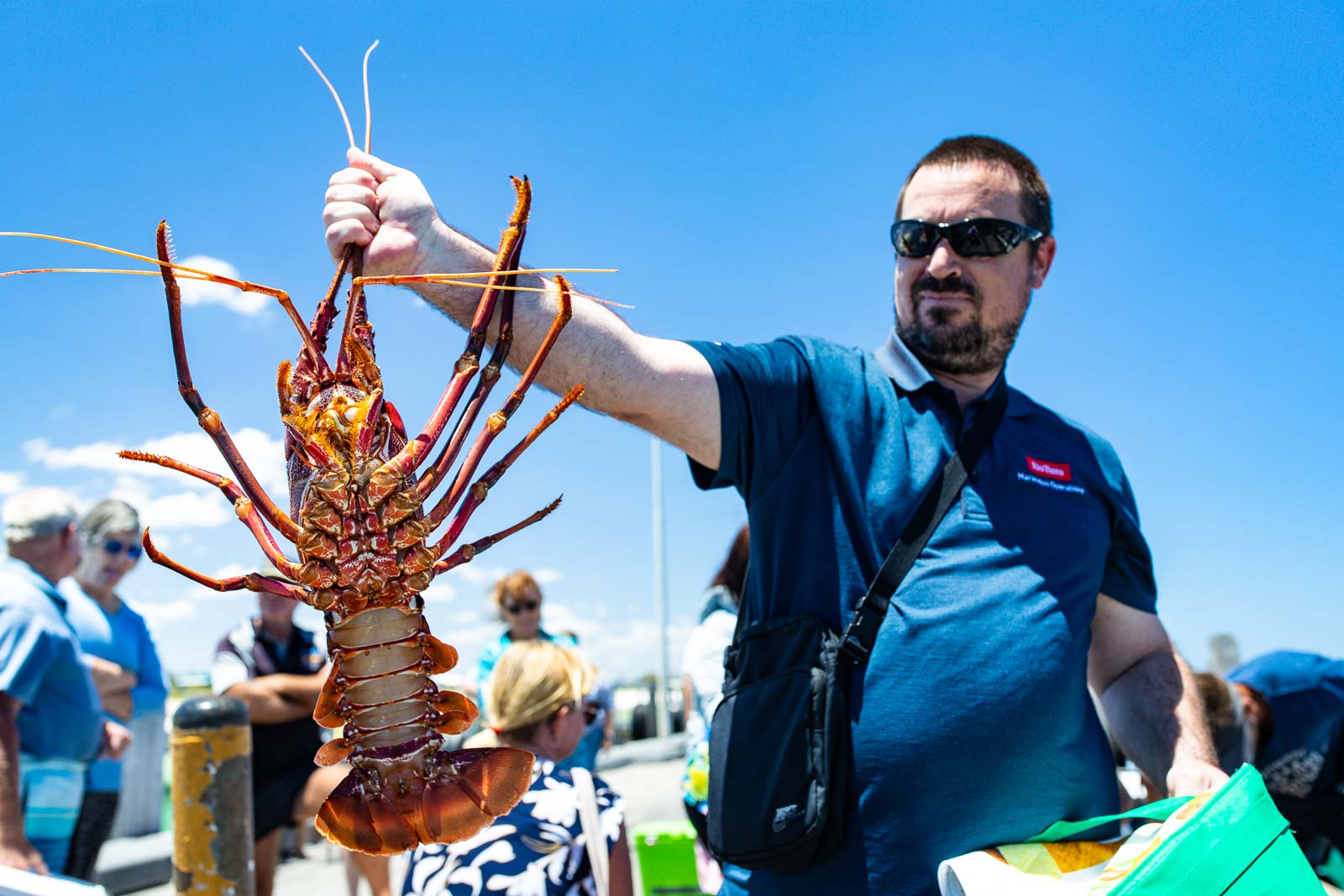 The Lancelin website does not sell crayfish. This site is a payment portal connecting buyers with fishers who have live BoB crays for sale. The details of the fisher will be stated on your email receipt.
Lobster/Crayfish Videos
Buying back of the boat lobsters in Lancelin
Preparing your live Lancelin lobsters for cooking
BBQing your Lancelin lobsters
Steaming your Lancelin lobsters
Boiling your Lancelin lobsters
Salt and pepper Lancelin lobster
FAQs
Why do I need to pre-order them and not just roll up at the jetty?
Fishermen only bring in what they have pre-sold.
Do fishermen fish every day?
They don't, so we identify on the calendar the days that participating fishers are fishing. You can only order lobsters for those days.
Why can't I order weeks in advance?
Fishermen often don't know if they will be fishing until a few days prior.
Can I get cooked crayfish?
Not under this scheme.
Why does the price vary?
Fishers will typically expect to secure a price similar to what the Perth wholesalers offer and that fluctuates depending on supply and demand. 

What size are these crays?
That will always be detailed on the order forms and will vary depending on what the fishers believe they can reliably supply.
If I'm late, can I collect from the fisherman's house?
No. you need to be at the jetty or factory when the boats return from sea.
What happens if a fisher can't go out on a collection day?
You will be advised promptly, and receive a full refund.